The Forrester Wave is an evaluation guide whose purpose is to help buyers choose between the various technologies on the market. Forrester has recently evaluated the different vendors of Enterprise Service Management (ESM) and divided them into four different categories; Leaders, Strong Performers, Contenders, and Challengers (see Figure 1 below).
After a thorough evaluation process, they have categorized Atlassian as the leader in its field based on the Jira Service Management product.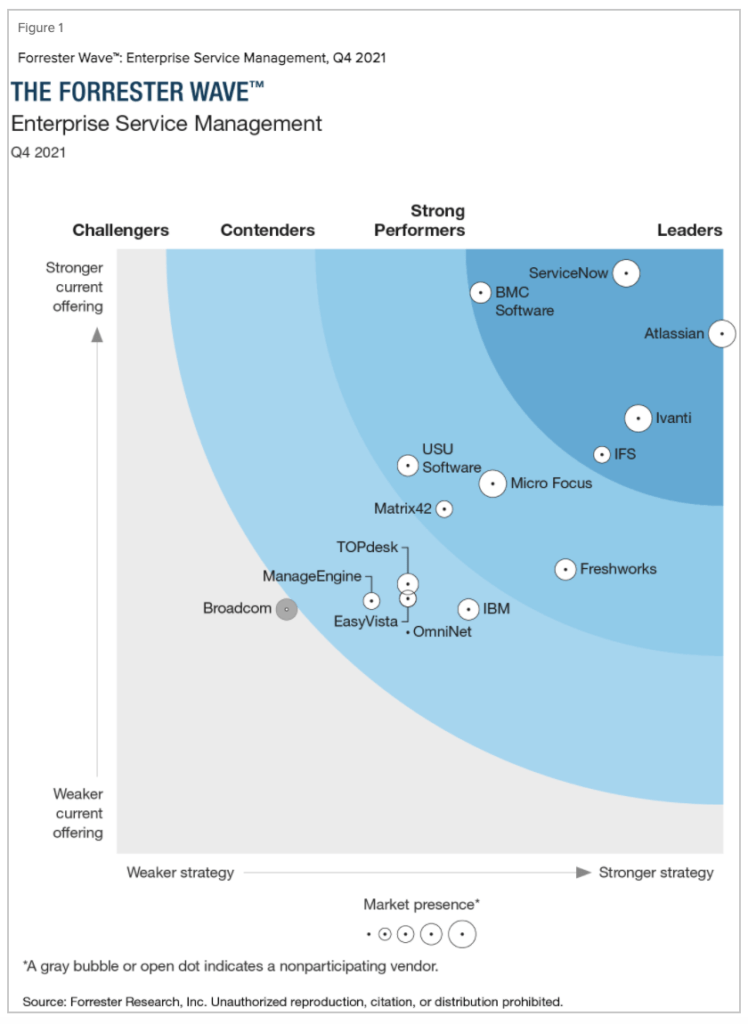 Why Atlassian?
Forrester has assessed that Atlassian is strongest strategically due to its investment in digital product development. Atlassian's strategy involves an ecosystem of integrable systems in everything from planning, collaboration, task management, and product development to knowledge sharing and operation. According to the Forrester Wave report, Atlassian's customers are pleased with the usability of the products and how they meet customer needs. After all, the report concludes that Atlassian is a good choice for those organizations there want a comprehensive, integrated service management platform and can be used by both development, operations and business departments.
The evaluation criteria
The individual suppliers are assessed based on 22 different criteria and followed grouped into three main categories:
1. Current offer
Each supplier's position on the vertical axis of Figure 1. indicates the strength of its current offer. Key criteria for these solutions include enterprise service modules, request management, activation and reporting of service portfolio, implementation, and administration.
2. Strategy
A position on the horizontal axis indicates the strength of the suppliers' strategies. The key criteria for these solutions include the supplier's commercial models and innovation roadmaps.
3. Presence on the marked 
The size of the white circles in Figure 1. represents the supplier's presence on the market. The score reflects each supplier's average contract size, turnover, and number of customers.
At Aety, we agree on the conclusion of the report about Atlassian. We are receiving the same response on the products from our Atlassian customers.
If you would like to read about Atlassian or the other suppliers in the report, please see the below figure:
[et_bloom_inline optin_id="optin_2″]