History
Atlassian introduced Jira Service Desk in 2013 when they discovered that 40% of their customers used Jira for some sort of helpdesk. Back then, the product was a very simple service desk without the possibility of adjustments.
Today, the product is called Jira Service Management, and Atlassian has acquired various companies and products from the marketplace to mature the product.
Atlassian's investment in the product over the past couple of years has made it the fastest-growing product in their portfolio. Atlassian's ITSM solution consists of:
Jira Service Management with a built-in automatisations engine and CMDB
Opsgenie for Incident management
Status Page for an overview of the different statuses of the organizations services.
+ a long list of marketplace apps. Our favorites include:

Refined for the styling of the portal.
Rich Filters for advanced dashboards.
Queues for JSM for advanced control of incoming requests.
The lack of visibility at Gartner pose a challenge
At aety, we have worked with Jira Service Management since 2016, and during the last two years, primarily, the product increased in popularity with many large organizations. One of the biggest challenges of promoting the product to some of the largest organizations in Denmark was the lack of product visibility in Gartner's "Magic Quadrant for IT Service Management Tools".
Atlassian was not visible previously because of Gartner's evaluation criteria that do not consider when a company develops its product through an ecosystem. The evaluation criteria establish minimal requirements to what an ITSM platform should include from scratch. This includes, amongst other things, a CMDB.
Many decision-makers use Gartner to evaluate the potential candidates for acquiring a new ITSM tool. In our experience, if a product is not included in Gartner's Quadrant, it is challenging to get it included in the list of candidates for evaluation.
Fast forward to 2021
Atlassian is now placed in the Visionaries category in Gartner's report – 2021 Magic Quadrant for IT Service Management Tools.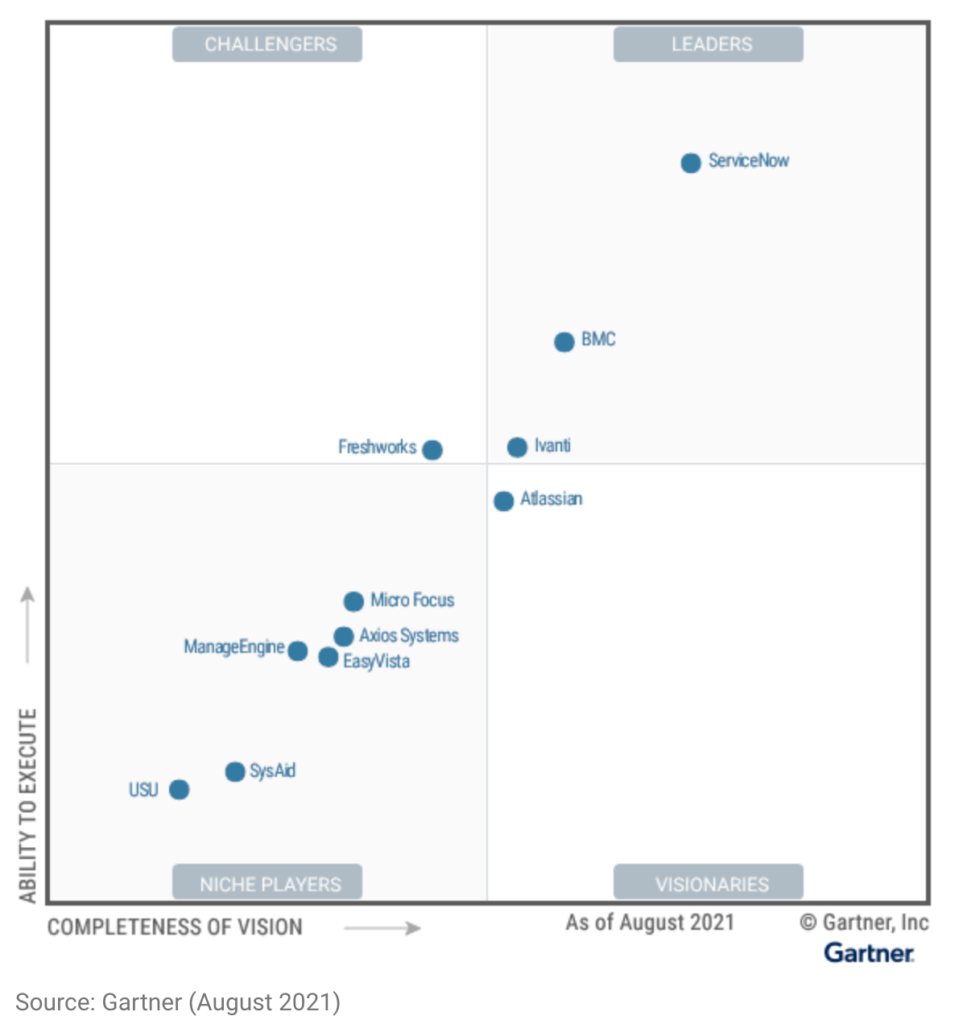 Gartner highlights the following strengths of the Atlassian platform:
Agile ITSM: Atlassian delivers a differentiated approach to ITSM by focusing on ITSM in a DevOps setting and an agile context.
Transparent pricing: Customers can configure and price Jira Service Management and relevant products through Atlassian's website without undergoing a complex buying process. Furthermore, Atlassian's low priced license steps (3 or fewer agents) gives customers the possibility to try the product before buying it.
Customer growth: Jira Service Management is the fastest growing product amongst the selected vendors. The customers are small companies and large companies with +1000 service desk agents.
Source: Gartner
What does this mean moving forward?
Besides ITSM, Atlassian is also a leader in Gartner's Magic Quadrant for Enterprise Agile Planning Tools.
At aety, we hope that this change will make organizations more prone to consider Atlassian's ITSM platform when purchasing these types of solutions. The possibility to combine support and management of projects in the same platform creates better synergies without investing in expensive integrations.
Products such as Confluence and Jira Software/work management are already present in most large organizations as a primary platform of IT control and business projects. This means that the customer would easily be able to expand on their current platform to include ITSM.
It is now not only the best ITSM platform according to aety, but now also a formal Gartner accredited ITSM platform!
If you are interested in hearing more about the possibilities with an Atlassian ITSM solution, don't hesitate to contact us via the below formula.
Error: Contact form not found.