monday.com is an excellent project management tool for marketing teams who want to stay ahead of their initiatives and keep track of the many tasks involved. Because the platform is so versatile and can be built specifically for the company's work processes, we will in this post select the five biggest reasons why marketing teams choose monday.com as their preferred project management tool.
1. You can manage your marketing strategy with a clear overview
monday.com gives you an overview of all your ongoing initiatives and how they perform. It allows you to make strategic marketing decisions based on relevant and up-to-date data to achieve your business goals. By gathering all the information about, for example, SEO, advertising, social media activities, events, and creatives in a single platform, you can create a visual overview of all projects in the marketing department.
monday.com's marketing solution brings together various templates so you easily and quickly can get started with the platform. You can change the different templates or build your board from scratch. The platform can also be designed to contain exactly the relevant information for you to execute your marketing strategy.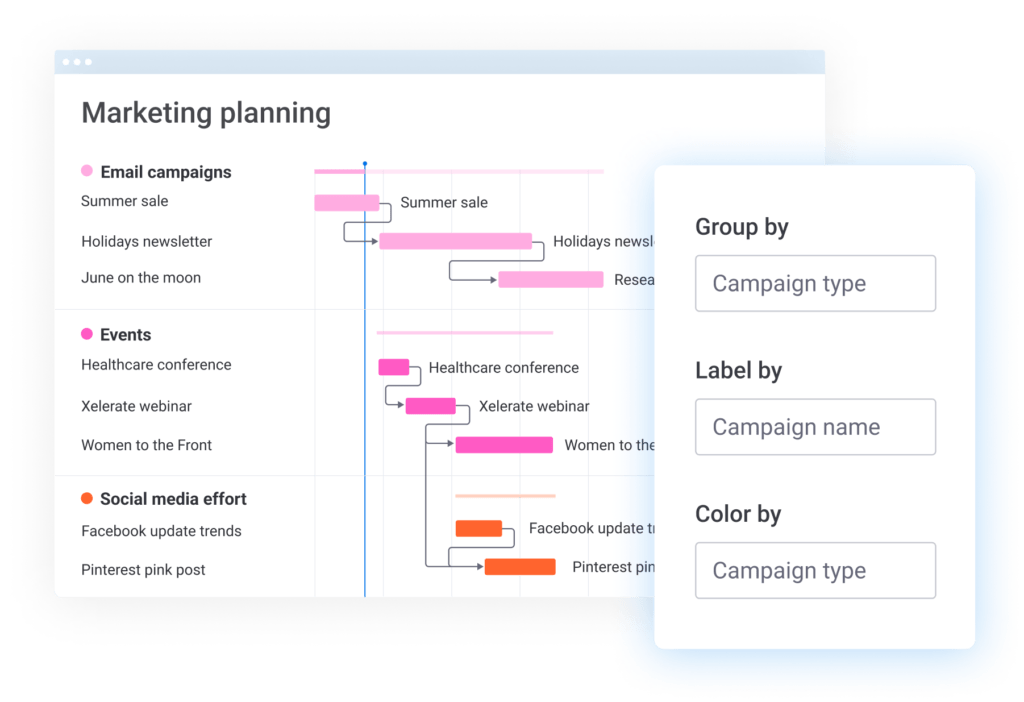 2. You can plan and automate all your campaigns in one platform
Campaign scheduling in monday.com is ideal for you who run campaigns on different channels. The platform collects all the campaign information in one place. Since monday.com consists of building blocks, you can design the platform to contain different information specific to each channel. For example, you can set up an automation for team members to be updated on changes for the various campaigns or if deadlines are approaching.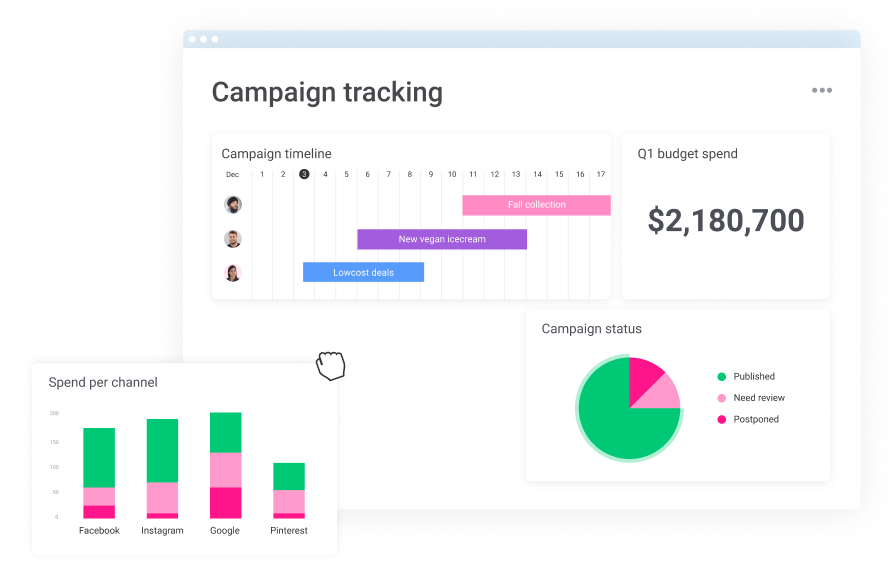 3. You can delegate tasks based on your team's capacity
In monday.com, marketing initiatives can be planed based on your team's capacity. This means that you can allocate tasks to the relevant employees. This allows you to balance the workload between employees and ensure that no one is overloaded.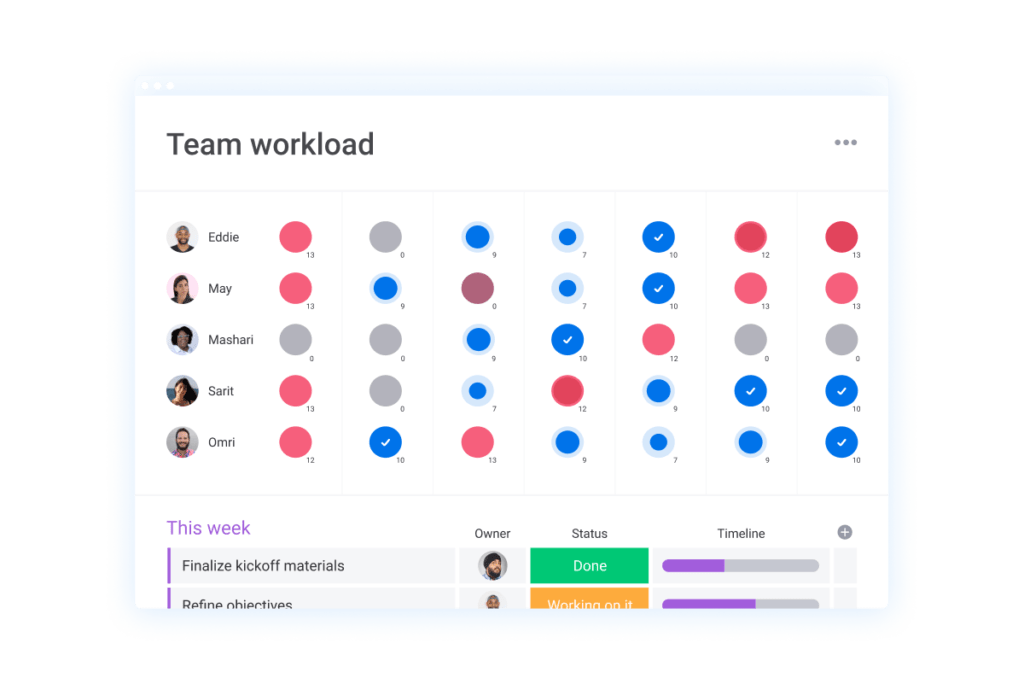 4. You can plan and visualize your content plan
monday.com makes working with content management easy and straightforward. Via various views, you can visualize your editorial calendar and get an overview of upcoming releases. You can organize your content by channel, priority, and release date so that your team has the information necessary to perform the task. In monday.com, you will create boards for the individual types of content and then integrate them into a high-level board, which gives you a good overview of all tasks.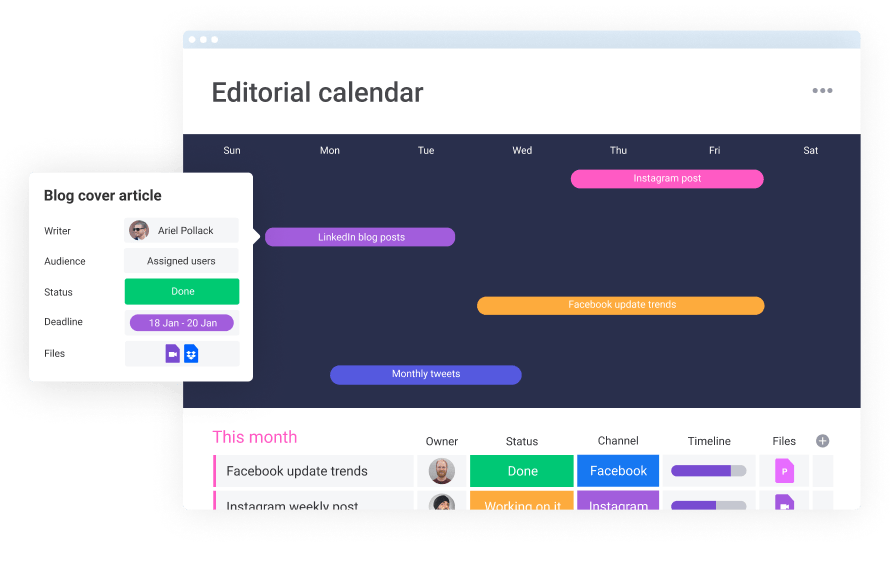 5. You can streamline the creative approval process from end to end
You can ensure that all relevant information is effortlessly transferred from campaign managers to copywriters and designers via forms, annotations, and versioning on the platform. With notifications and automation, the right people are informed automatically when specific actions are performed.
monday.com can also be used as a database for sharing material. It is used in various tasks, such as creative for ads. You have the opportunity to comment on the individual assets or collaborate on copywriting in monday.com pendant to Google Docs.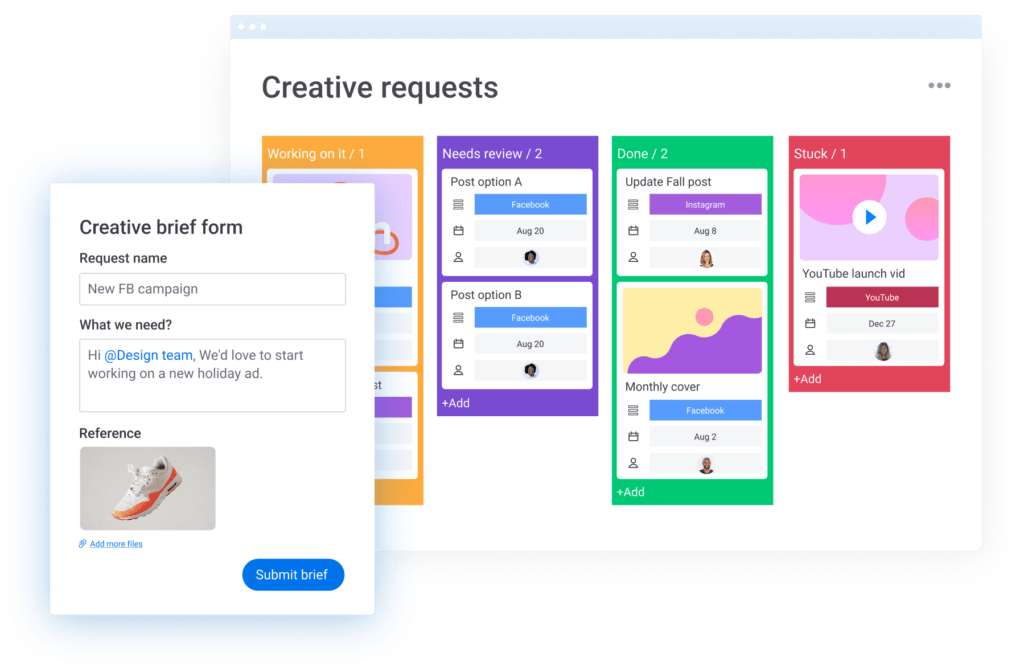 monday.com is a must-have when it comes to marketing management. The platform helps manage any marketing project, from the creative process to the publication of campaigns.
If you want to try monday.com on your own, you can start a 14-day free and non-binding trial period.
If you want to hear more about how the platform fits into your work processes or if you want to receive a customized demo of the platform, you can contact our monday.com Account executive, Helena Sadeghi.